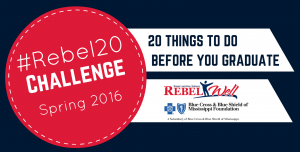 Listen up, students!  We all love prizes, and what better way to win one than to enter into the #Rebel20 Challenge?  University of Mississippi students who participate in activities on the #Rebel20 checklist will be entered into a drawing for prizes, two entries per task completed.  For each task, make sure you take a picture and post it on Facebook, Twitter, or Instagram with the hashtag #Rebel20 for proof!
If you're interested in participating:
Print off this #Rebel20 Challenge Checklist.
Register for the challenge below.
Start checking off the list.
Submit your checklist (finished or not) to rebelwell@olemiss.edu on or before May 14th.
Questions?  Email rebelwell@olemiss.edu.