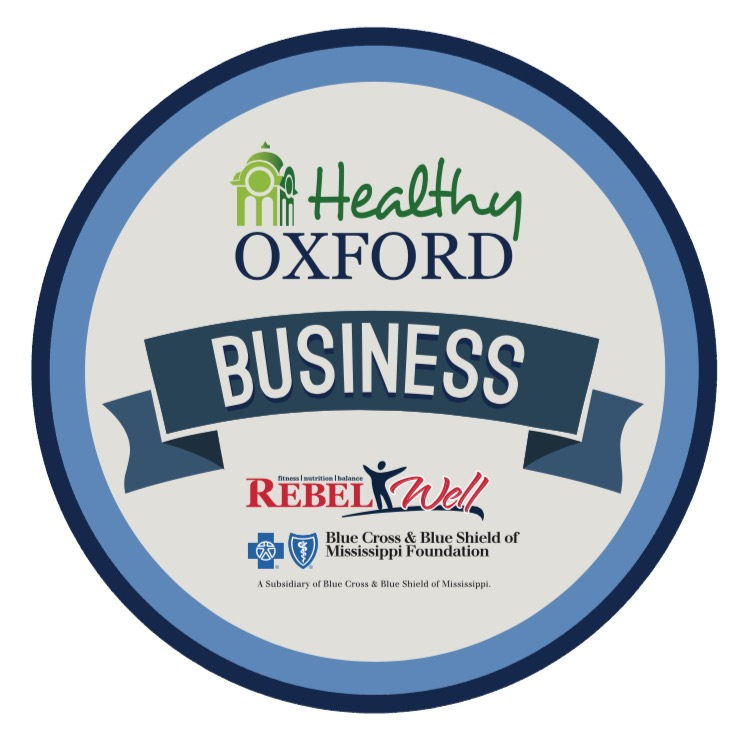 UM Outreach recognized as January's HealthyOxford|Business
Monthly recognition continues for local businesses making wellness a priority.
RebelWell continues to highlight Oxford businesses that make health and wellness a priority in the workplace. January's spotlight is placed on The Division of Outreach and Continuing Education at the University of Mississippi.
UM Outreach, perhaps not always perceived as a traditional local business, offers some of the most exciting opportunities around for both locals and out of towners. The creators of Communiversity classes, summer camps for all ages and a full-service conference center are just a few of the programs that make UM Outreach a key ingredient in the Oxford business scene. UM Outreach is able to utilize unique campus resources and create a variety of opportunities for Oxford and the surrounding communities.
UM Outreach's exceptional and continued wellness efforts make it clear their departmental leadership believes in the importance of wellness for employees.
"We are working hard to be a healthy workplace," said Vanessa Cook, Project Manager and Wellness Champion for UM Outreach. "We are fortunate to be able to participate in the University's overall worksite wellness program. Then as Wellness Champions we are able to take it up a notch on a departmental level. We create opportunities to try some creative things just within our unit."
Some of Outreach's wellness efforts include Fresh Food Fridays, a thematic nutrition day each month and Salad Days. Once a month, on a Friday following payday, the department will host a Fresh Food Friday where staffers are encouraged to bring healthy fresh foods to share and nibble on throughout the day. Salad Days includes staffers bringing in one salad item and together, the department creates a healthy salad bar to share. They also have a themed food day once a month where employees will bring in different recipes around the monthly theme to share with others. Themes have included smoothies, oatmeal, parfaits, kabobs, and pizza.
"Moving forward, we plan to bring in some guest speakers on Salad Days to talk about healthy habits, nutrition, or health concerns," added Sandra Sulton, Coordinator of Continuing Education Programs and department Wellness Champion. "Wellness is easier to tackle as a group and we are able to learn a lot from each other."
Other wellness activities include Buddy Walks where wellness champions encourage staffers to grab a buddy and take a short walk sometime during the day. Walking meetings for brainstorming sessions and discussions are also encouraged.
Stretch Reminders are in the planning phases and will include a group text, sent a couple of times a day, to encourage employees to get up from their desk and stretch throughout the day. The opt-in text reminder will also include a photo showing how to do different stretches at the desk. The first Friday of the month will be Fitness Friday. Fitness instructors will come in and lead a short workout for those wishing to participate. The sample workouts will coincide with existing offerings around campus such as group fitness offerings at Turner Center or RebelWell pop ups such as Yoga in the Gallery. Fitness Friday will kick off February 3.
To reach beyond just the immediate staff, Outreach is planning a family activity day for later this spring. Outreach also donates children's bicycles to the Books and Bears drive to encourage healthy habits for local kids.
UM Outreach will display the RebelWell Golden Sneaker trophy in the lobby of their building on the Oxford campus for the upcoming weeks and permanently display the HealthyOxford|Business window decal signifying they are doing outstanding things in the wellness space.
If you would like to recommend your company or business for HealthyOxford|Business recognition, please contact Wendy Carmean at wendy@olemiss.edu.
About RebelWell
Funded by a generous grant from Blue Cross Blue Shield of Mississippi Foundation, the university developed the RebelWell program that provides a range of opportunities for university employees, school age children, public school educators, university students and the greater LOU community. RebelWell encourages healthy lifestyles through group fitness classes, cooking demonstrations, nutrition counseling and an array of programs and partnerships focusing on increasing physical activity and nutrition education.
As a way to highlight local businesses in Oxford and Lafayette County who actively provide wellness opportunities to employees, RebelWell created HealthyOxford|Business. Each month, RebelWell features a local business and spotlights their wellness efforts and activities for employees and/or customers. Visit RebelWell online at rebelwell.olemiss.edu for more information.
About UM Outreach
The Division of Outreach and Continuing Education values integrity, quality, and efficiency in the creation and implementation of innovative educational strategies to engage minds, to transform lives, and to serve others. UM Outreach inspires change and growth by building relationships and working collaboratively with University students, faculty, staff, alumni, and partners from the region, state, nation, and beyond.
The mission of the Division of is to serve the University and the community by facilitating and providing high-quality learning experiences. Visit UM Outreach online at www.outreach.olemiss.edu/.
……
See our previous spotlights here.