Healthy Habits Participation Points
RebelWell is so excited to announce our new participation rewards program!  As
of this semester, participants in select RebelWell activities and events will earn Healthy Habits Participation Points.  These points will be accrued in order to enter into drawings for prizes at the end of the spring semester.  Students and employees alike are encouraged to get involved!
One way to participate is by attending the monthly Transformation Tuesday sessions held the first Tuesday of every month.  These workshops in partnership with ActiveHealth  cover health and wellness topics such as Mental Wellness, Relaxation Techniques, and Organic Foods.  Each session you attend will award you 5 Healthy Habits Participation Points.
Another great way to get involved is by participating in the RebelWell Challenge series.  Throughout the year, RebelWell challenges all University of Mississippi employees and students to reach wellness goals such as the Fall into Fitness and 28-Day Quit or Commit Challenges.  These challenges are great ways to earn your Healthy Habits Participation Points, as each challenge is worth 50 points!
Start getting involved with RebelWell today!  Other activities and events posted here.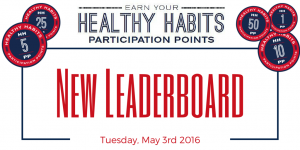 Aaron Stoeger 25
Adam Holbrook 25
Adam Livingston 25
Aditya Khare 25
Afton Thomas 10
Aidan Ceasar 25
Aileen Ajootian 25
Alec Punn 25
Alecia Gunn 25
Alex Walters 25
Alexandria White 50
Alice Steimle 50
Alissa Evans 45
Allison Burkette 50
Allison Nooe 25
Amanda Alpert 25
Amanda Bennett 25
Amanda Klenke 10
Amit Tzivion 25
Amy E. Gibson 40
Amy Marie Saxton 5
Andrea Jekabsons 195
Andrew Beno 25
Andrew Hazelton 100
Andrew Whitehurst 25
Andy Nyguyen 25
Andy Paney 50
Angela Ellis 5
Ann Monroe 50
Anna Beavers 25
Anna Carroll Harrily 25
Anne Cofer 5
Anne DeLee 25
Anne Klingen 75
Anne McCauley 25
Anne Simmons 100
Ansley Lance 25
Anton Speaker 25
Ashlee McHaney 25
Ashley Fitts 25
Ashley Olson 25
Ashley Rogers 25
Ashton Keen 25
Audra Trnovec 35
Audrey Floyd 10
Austin Angel 25
Austin Moore 25
Barrett Baine 25
Baylee Edwards 25
Benita Whitehorn 100
Benjamin Serett 25
Beth Sanders 50
Bill Lott 25
Blake Barham 25
Blake Cocanaugher 25
Brad Crowe 30
Brandon Belke 25
Brandon McLeod 25
Brandon Riches 25
Brandon Rogers 25
Brent Downs 25
Brett Cantrell 25
Brian Adams 25
Brian Veverka 60
Briana Booker-Echols 25
Brittany McCue 50
Brittney Cable 50
Brooke Holloway 50
Bubba Daniels 25
Caitlin Francis 25
Cammie Champion 25
Carl Hill 60
Carla Moyer 50
Carley Lovorn 10
Carmen Fogerty 25
Carmen Riggan 85
Carol Lutken 50
Caroline Battle 25
Caroline Mashburn 25
Carolyn Evans 70
Carolyn Freiwald 25
Carter Higgins 25
Cary Allen 25
Cassandra Shawk 25
Catherine Hultman 50
Caty Bhikha 25
Cecelia Leto 25
Centeria Cooley 25
Ceola Turner 35
Chance Cox 50
Chandler Morgan 25
Charlie Seibert 25
Charlsie Haire 25
Chelesa Riches 25
Chinni Yalamanchili 25
Chloe Richards 25
Chloe Vanderzwaag 25
Chris Danby 25
Chris Reichley 10
Christian Bondits 25
Christian Meadows 25
Christina Torbert 50
Claire Harris 25
Claire Sullivan 25
Clara Rock 25
Clay Henley 25
Connor Schwartz 25
Connor Yackels 25
Corey Blount 25
Craig McCalla 25
Crystal Jones 70
DaJ'ai Ashford 25
Dake Davis 25
Dalton Drake 25
Dana Requet 25
Daniel Hill 25
Daniel Owens 25
Danny Smith 25
Darius Watkins 25
Darrell Baford 25
David Holben 75
Deanna Tate 25
Debbie Ann Maddigan 315
Deborah Smith 70
Debra Novak 155
Debra Riley-Huff 25
Desha Ferguson 100
Devin Stoeger 75
Diana Mobley 50
Diana Paek 25
Diane Lindley 25
Dianne Welch 30
Dj Hobson 25
Douglas Alford 5
Drew Fowler 25
Drew Howard 25
Drew Lefmann 85
Drew Smith 50
Dustin McGee 25
Eduardo Rocha 25
Elizabeth Crush 50
Elizabeth Dorris 50
Elizabeth Tolbert 10
Ellen Olack 150
Ellie Campbell 50
Ellie Fowler 25
Emily Briggs 65
Emily Howland 25
Emily Lado 25
Emily McCauley 75
Emily Styles 275
Emily Ware 25
Emma Wandell 25
Eric Freimark 25
Erik Hill 25
Erik Hurlen 150
Erin Cromeans 25
Ev Barrett 50
Evan Turner 25
Evander Ward 25
Fiona Foster 50
Frank Newell 20
Gabby Coggin 50
Gabriel Montez 25
Gang Guo 125
Gary Freeman 25
Glendon O'Neil 25
Glenn Schove 50
Glenna Bachman 115
Grace Anne Millerick 25
Greg Johnson 50
Gretchen Edelman 25
Griffin Thomas 25
Haley Crenshaw 25
Haley Messersmith 25
Hannah Dilday 25
Hannah Osowski 25
Hannah Waltman 25
Harriet Hearn 50
Hayden Edwards 25
Hayden McMahon 25
Hayley Hamann 25
Heather Hedgepeth 210
Heather Todd 25
Hilarie Bain 10
Holly Jubera 50
Hooks Hausman 25
Huey Kuykendall 25
Hunter Owens 25
Ian Banner 25
Ido Tzivion 25
Isabelle Owen 25
Isabelle Pommier 25
Jaclyn Falzarano 25
Jacob Gdovin 25
Jacob Lovett 25
Jacob Smith 25
Jake Moore 25
James Gledhill 25
Jamie O'Dell 25
Jandel Crutchfield 50
Jane Tutor 25
Janice Carr 25
Jared Cox 25
Jared Grigg 25
Jasmine Henderson 25
Jason Dantona 25
Jason McCormick 25
Jason Ritchie 75
Jason Skirkey 35
Jay Luckett 25
Jean Robinson 10
Jennie Jesuit 25
Jennifer Langford 100
Jennifer Wilson 25
Jeremiah Beene 25
Jeremy Coleman 10
Jeremy Cook 25
Jessica Hughes 115
Jessica Sowers 150
Jill Layne 100
Jillian Harris 25
JoAnn Harris 10
JoAnne Costa 175
Joclyn Neal 25
Joe Kelly 25
Joe Polizzi 25
Joe Salvemini 25
Joel Colunga 25
Joel Hanel 25
John Adams 25
John Anderson 25
John Bennett 25
John Denver Clinton 25
John Keyte 25
John Vinzant 25
Jonathan Jamieson 25
Jordan Barr 25
Jordan Freeman 25
Josh Krusen 25
Josh Mattox 25
Joy Rowsey 60
Joy Shideler 150
Joyce Pride 115
Judy Forester 50
Judy Greenwood 10
Judy Hopper 150
Judy Nesbit 60
Julie Pham 25
Junxing Zhang 25
Justin Harness 25
Kamiko Martin 25
Kaori Hirayama 25
Kara Hawthorne 50
Kat Watson 180
Kate Meacham 10
Katelyn Bertling 25
Katherine Parks 25
Kathleen Wachter 5
Kathy McCluskey 50
Katie Garner 85
Katrina Forsythe 50
Kay Tyler 25
Keaton Taylor 25
Keaton Wong 25
Keith Carter 10
Kelley Jenkins 10
Kelly Houston 10
Kelly Roeder 25
Kelsey Harris 25
Ken Biery 15
Kendall Brown 25
Kendall McDonald 75
Kerry O'Donoghue 60
Kevin Gates 25
Kevin Koch 5
Kiannah Alexander 30
Kim Carr 220
Kim Rumell 25
Kirsten Dellinger 25
Kirstie Manning 5
Kranthi Kadaru 50
Kris Belden Adams 50
Kristen Nelson 25
Kristen Olson 25
Kristen Shultz 25
Kristin Banks 25
Kristin Rogers 50
Kurt Pollach 10
Kurt Smith 25
Kurt Sohott 25
Kyle Matkins 25
Kyle Peterson 25
Laryssa McBeath 25
Laura Sheppardson 25
Lauren Black 25
Lauren Jade Maharrey 50
Lauren Payne 25
Lauren Rogers 25
Lauryn Sperling 25
Lee Edelman 25
Lee Martin 25
Leigh Mcwhite 25
Leigha Coke 25
Leixuan Guo 25
Leon Green 25
Lesley Gore 25
Leslie White 50
Liming Song-Cizdziel 15
Lindsey Abernathy 50
Lisa Holben 50
Lisa Roberts 10
Lisa Rogers 50
Lisa Sanders 50
Liz Dixon 50
Lizzie Anderson 25
Logan Lyles 25
London Kindred 25
Luke Cowne 50
Lynn Woo 60
Mac Koorbusch 25
Macey Deaton 25
Maci Woods 25
Mackenzie Breeland 25
Maddy Baldwin 25
Madelyn Davis 25
Maggie Smith 150
Margaret Simonson 5
Mariana Anaya 60
Marilyn "Lisa" Sanders 50
Mark Garneau 25
Mark McCauley  25
Mark Sudduth 25
Marshall Crouther  10
Marshall Meyer  25
Mary Elizabeth Moore 25
Mary Knight 5
Mary Lea Moore 50
Mary Lenora Moore 175
Matt Leighton 25
Matt Livingston 25
Matthew Gumpert 25
Max Busby  25
Max Law 25
Max Willis  25
Meghan Edwards 25
Meghan McNeill 25
Mel Pomfrey  25
Melody Frierson 25
Meredith Fry 25
Mia Martinson  25
Mia Tomasella 50
Michael Cherry 50
Michael Dupper 25
Michael Howland  25
Michael McMillan  25
Michael Molnar  25
Michael Puglisi  25
Mike Mossing  50
Mildred Ivy  25
Minhee Cho  25
Minji Kim  25
Mitch England  25
Mitchell Berkeley  25
Molly Berra  25
Mykalia Jamison  25
Nana Qian  25
Natalie Nordan  25
Nathan Sprabery  25
Nathan Taylor  25
Neal Davis  50
Neely Francis  25
Niamh Courtney  25
Nicholas Carr  25
Nick Amelang  25
Nick Hughes  25
Nina Jones  50
Nishal Bhikha  25
Noah Wright  25
Okke Merton 25
Oliver Pollard 25
Olivia Dale 175
Pam Barefield 50
Pam Roy 50
Pamela Jossell 15
Pamela Quisenberry  110
Parishweta Bhatt 165
Parker Ball 10
Patricia O'Sullivan 50
Patricia Oswalt 205
Patrick Wolf 25
Paul Pohto 25
Penny Rice 50
Peter Andes 25
Peter Ogunniran 10
Peter Tulchinsky 45
Peyton Johnson 25
Philip Bertucci 25
Quentin Dornan 25
Rachel Dennis 25
Rachel Meadows 25
Rachel Peck 150
Raylea Willoughby 25
Reagan Pearce 15
Rebekah Reysen 25
Reed Schaub 25
Renee Coffman 125
Rhianna Morgan 50
Richard Kemper 25
Richard Rodriguez 25
Ricky Bojorquez 25
Robert Brower 25
Robert Saarnio 10
Robert Sockwell 25
Roberto Perez 25
Ron Rychlak 25
Ronnie Oswalt 50
Ross Bjork 20
Russel Williamson 25
Sam Buckner 25
Sam Pheltos 25
Samantha Mitchell 25
Sameer Dhoju 10
Sandra Sulton 10
Sarah Butt 25
Sarah Clancy 25
Sarah Nichols 25
Sarah Thomas 100
Scott Dankel 25
Sean Williamson 25
Shakira Tillman 50
Shannon Cooley 25
Shannon McMullen 55
Shannon Singeltary 20
Shayla McGuire 25
Sheila Padgett 5
Shelethia Whisenton 25
Shelley Morrison 50
Sherry Steen 50
Shinichiro Yamaguchi 50
Shun Goss 25
Sierra Whitten 25
Sonny Rogers 50
Stacey Bondurant 25
Stacey Reycraft 25
Stefanie Delmastro 10
Steffen Vollmer 25
Steve Threlkeld 25
Sue Gauthier 85
Sujith Ramachandran 25
Sunny Eicholtz 75
Susan Foust 10
Susan Loveall-Hague 130
Susan Tyler 75
Suzy Norwood 50
Sydney Whittle 25
Tamar Karakozova 110
Tamara Holland 25
Tamara Warhol 25
Tanya Nicole Satterfield 10
Tate Anderson 10
Tawone Gray 25
Taylor Barefoot 25
Taylor Cunningham 25
Taylor Delaney 25
Theda Russell 50
Tiffany Edwards 10
Tiffany Webb 50
Tim Leiser 25
Tim Potts 25
Todd Hauser 25
Tom Park 25
Tony Ammeter 10
Tori Hutchinson 25
Toya Heard 25
Tracey Vaughn 125
Travis Yates 20
Trent O'Malley 25
Trevor Bunte 25
Tucker Griggs 25
Tucker Swanson 25
Turner Maxwell 25
Tyler Caple 25
Tyler Mills 25
Vanessa Cook 150
Vernita Ivy 10
Vicki Howe 50
Victoria McCord 50
Walker Witchead 25
Weston Liefer 25
Whitney Beach 50
Wil Griffin 25
Will Ashley 25
Will Jordan 25
Will Jordan 10
Will MacKenzie 25
Will Moore 25
William Peaster 25
William Sexton 25
Xena Williams 25
Yutong Wang 25
Zach LaPrell 25