Testimonials
Has your RebelWell Wellness Champion or a RebelWell event helped jumpstart your path to a healthier lifestyle? We want to hear from you. Contact us at rebelwell@olemiss.edu.
Healthy Educators Challenge Participants
"Being a part of the RebelWell program has been a blessing.  This program helped me in many ways. I have met many new friends and teachers with similar health goals.  These new relationships are keeping me motivated to be healthy.  The support group we created has played a big role in this program.  The exercise program that was provided was such a positive experience.  I was able to push myself but not feel pressured at the same time.  The training expertise of our trainer provided the knowledge and motivation to get back on track and take care of myself.  I am so glad I was able to participate in this program."
-Carol Trott, Oxford Intermediate School
"The RebelWell program has gotten me motivated to get healthier and has passed to my family.  It wouldn't have happened without all of you!  I am truly thankful for all your help, support, love, encouragement, and guidance. I wish this program could last forever! So awesome what y'all are doing for teachers, their families, and the community! This is passing on to our families, students, and friends!! I've made new friends, supporters, and been blessed by you all!"
-Manda Crawford, Lafayette Elementary
"To me, the program means a starting point to the beginning of being fit for life. Great information on nutrition, wonderful workouts, life long accountability, and friends are my rewards for completing this program."
-Stephanie Anderson, Lafayette Elementary
"Reinforcing, Empowering, balancing, encouraging, liberating, warming, energizing, laboring, lasting.
RebelWell Fitness was the beginning of a healthy life style. Over the 8 weeks I became stronger and more conscious of my eating and sleeping patterns. It provided a support system for me and all participants. The participants provided encouragement for me never letting me quit when I felt I could not do one more move."
-Stephanie P. Carter, Lafayette Upper Elementary
"The RebelWell Fitness Educator Challenge has been such a motivational tool for me. It started as a safe environment for me to try some new workouts, but it ended up leading me to push myself more, because of all the encouragement I received. The workouts were tough, but always fun. Let's face it; a fun activity will always be repeated! This is leading me into the healthy lifestyle I desire. The challenge also brought so many new friendships that kept me inspired and accountable. The friendships kept me going and still do today. I'm so thankful for this unique opportunity and I know my life has become healthier!"
– Julie Gatlin, Lafayette Elementary
"Being able to participate in this challenge gave me all the obvious things…a visit with the nutritionist, the workouts with a trainer, etc…but what it gave me was a conscience about working out and eating healthier. Even when I couldn't get to workouts, I would do something at home, either my treadmill or some of the exercises we did at the workout. When I'm eating out or buying groceries, I THINK before I order or grab something off the shelf and ask myself if I should be eating this, or no. Of course, I have cheated, but not like I used to. The program is in the forefront of my thinking everyday and I feel a little guilty when I'm about to "break bad," so I DON'T…I feel a commitment to myself and my goals that I think will stay forever! It's like "what would Ruako say" or "what would Mariana do."  I am totally committed to living the way from now on. Thank you for giving me this chance, and this mindset!"
-Cathy Cox, Lafayette High School
"The RebelWell program has been my chance to regain health and control for my life, in time for my daughter's high school graduation. I had to smile a bit as walked into the Tad Smith Coliseum wearing clothes that were a comfortable size smaller than I had worn in years. I had a great time posing for pictures, which I had always avoided. I patted myself on the back as I walked up those same steps that had cause me such agony during the eight week "easy day" workouts.
RebelWell fitness is now a part of life. My 50th birthday is only a few months away. I can't wait to be even healthier and stronger on this day."
-Lynann Lott, Lafayette Upper Elementary 
"Rebel Wellness was incredible. I feel like I have a whole new outlook on life. I feel better, healthier than I ever have. Lawrence has been such a great motivator. I believe when he ask us to remember our "why" when we started this program that the why is what kept me going. I have grown closer to old friends and have loved making new ones. We have cheered and challenged each other. I am so thankful that I was a part of this program. I would recommend this to anyone."
-Amy Atchley, Lafayette Elementary
"The Rebel Well Educator Challenge was an incredible start to a life long journey of getting and staying healthy. I have improved my fitness level and challenged myself to be better than I started. The encouragement from fellow participants and the instructors was imperative to being successful and finishing the program. Their continued support and guidance has created in me a desire to keep working at my fitness goals."
-Joanne McGehee, Oxford Intermediate School
"The Rebel well Fitness Program has been an eye opener. I really don't enjoy exercising , but participating in the group workouts was actually fun. Shocking, I know. This program is about more than losing weight, which most of us want, of course, but it's really about being healthy – making positive changes and choices to get and stay healthy. It has meant developing friendships and a support group that will last well beyond the eight weeks of the program. Thanks for all the encouragement and positive motivation. We wouldn't have made it without you guys!"
-Kim Caraway, Oxford Learning Center
"I loved the comradery of fellow teachers from within my own building and surrounding district. The instructors for exercise and nutrition were a nice balance, it helped me to stay aware of my eating habits while I exercised. Everyone had such positive attitudes during our work-outs and to get shot-outs of encouraging words during the work-outs.  I loved having so many strangers coming together to support a common cause of "being the best that I can be" not trying to be the person exercising beside me. I injured my knee and couldn't complete the physical activity, however just knowing so many cared and keeping the daily nutrition journals and meeting with the Nutritionist helped me to continue developing life-long goals for a better me. Please continue to offer this program; the knowledge and comradery are immeasurable, there are too many benefits to be named.
Thanks so very much for introducing me to a better me and I am going to continue this journey."
-Minnie Gates-Powell, Scott Center
"I don't know where to start.  "Positive everything!" Is the only way I can describe RebelWell fitness.  Work hard for what you want.  Keep the right attitude & always do your very best. All these things were easy to do under the guidance of Lawrence.   He always was very encouraging and showed us how to have a positive attitude. The whole program was great!"
-Michele Adams, Lafayette High School
"The RebelWell Fitness Program has changed my life. It's not only provided me the opportunity to lose weight but it's also given me the tools to eat, shop, and live a healthier and happier lifestyle. I truly believe this program was the jumpstart that I needed to become the best version of myself. Wonderful trainers, a caring nutritionist, and the most amazing group of individuals that provide endless support and encouragement have lead me to a healthier and happier path in life. That's what this program meant to me…the start of a new and healthier me!"
-Arvy Allen, Lafayette Elementary
"I have enjoyed this program so much. Not only was it a fun, upbeat environment, but it brought us closer as a teaching community and I met some wonderful people that can now hold me accountable. It also jumpstarted our continued workouts and a few ladies walking at Lafayette. I knew I wasn't meeting my workout or healthy lifestyle potential, but this program helped me reflect on myself and realize how little I was doing and how much more is out there. I will take what I've learned and continue on my path to healthiness and fitness!"
-Emmie Angel, Lafayette Upper Elementary
"Being a part of RebelWell has meant a lot to me the past 8 weeks. It was great to be a part of such a motivating yet accountable group of teachers who turned into friends. Being educated on the nutrition component of healthy living while exercising was what I really needed. I am grateful for the opportunity and definitely enjoyed the camaraderie shared among the group!"
-Candies Cook, Oxford Intermediate School
"The 8 weeks that I spent in the fitness challenge was the motivation I needed to get my health back on track. The workouts were challenging, but the encouragement we got from you kept me going. The dietitian approach let me know what a balanced meal was. And that I can cheat, a little. Overall a great experience."
-Jean Painter, Lafayette Middle School
"The RebelWell program was such a positive experience for me. I needed help getting myself back on track with healthy habits. I appreciated all the support and encouragement from the RebelWell facilitators. It had been a long time since I had really pushed myself hard with exercise. I had lost a lot of confidence in myself, but this program helped me to feel stronger and more confident. This program also came at a time when my family experienced a deep sadness. I think I coped better with the stress and sadness by having understanding people encouraging me to stay healthy. The fitness class was a great stress reliever.
I am so thankful for this experience. I have begun practicing more healthy habits again such as better eating habits and more frequent exercise."
-Cindy Ross, Oxford Intermediate School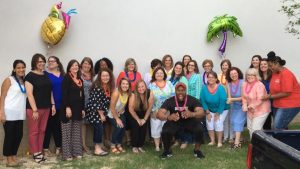 University of Mississippi Faculty + Staff
"Rebel Well has helped improved my health in several areas.  First, since the end of May, I have lost two pant sizes.  Along with Pari (our Rebel Well trainer) I attended the health fair during the summer and got current information regarding my basic health (blood pressure, weight, flexibility, heart rate).  Soon thereafter, Pari, our trainer, attended a training session and brought back a formula that used your weight  in order to find out how many calories you were having to eat to maintain your weight or lose 1 pound per week. By using this one piece of information combined with the walking challenges, I have been able to consistently, but slowly lose weight….and I'm still losing.
The best part is that it hasn't felt like a chore; in fact, it has had the effect of team building in our department as we have supported each other in becoming healthier!  Thanks RebelWell keep up the good work!"
-Catherine Hultman, Program Coordinator, UM Online Design and eLearning
"RebelWell definitely motivated me to reach my daily walking goals!  I really enjoyed keeping up with my progress on the Walking Challenge Log.  I'm still hanging in there and try to walk every morning before work."
–Hillary Goulding, Assistant to the Dean, UM Patterson School of Accountancy
"The daily walking habits that our department developed during the RebelWell daily walking initiative ingrained a pattern of regular walking for many of us in the department."
-Randy Uncapher, Instructional Technology Designer, UM Online Design and eLearning
"I just wanted to let you know how much I have enjoyed all of the events of the Holiday Challenge. I have learned a lot about nutrition and healthy eating. It has help me change my daily eating habits."
–Deborah Smith, Senior Accountant, Office of the Bursar
"I love being a RebelWell Champion and promoting and sharing the healthy activities and workshops sponsored by RebelWell in our office. We participated in the Spring and Fall Walking Challenges and won the latter boosting our morale and motivating our office further to continue with daily healthy activities for a minimum of 30 minutes each. Besides the challenges, we have also enjoyed talks and workshops hosted by RebelWell along with the Nutrition department on campus and learned a lot about not just healthy activities, but also healthy eating and stress relief in our daily lives.
I am a huge fan of the program and hope that it continues to grow and spread health and wellness among all OleMiss employees!"
– Pari Bhatt, Former Instructional Technology Designer and RebelWell Wellness Champion, UM Online Design and eLearning