Basic Nutrition Information
Healthy Eating Plate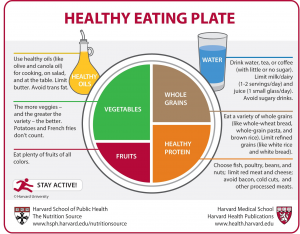 The Healthy Eating Plate, created by nutrition experts at Harvard School of Public Health and editors at Harvard Health Publications, was designed to address deficiencies in the U.S. Department of Agriculture (USDA)'s MyPlate. The Healthy Eating Plate provides detailed guidance, in a simple format, to help people make the best eating choices.
Use The Healthy Eating Plate as a guide for creating healthy, balanced meals—whether served on a plate or packed in a lunch box. Put a copy on the refrigerator as a daily reminder to create healthy, balanced meals!
Make the most of your meal
The main message of the Healthy Eating Plate is to focus on diet quality.
Your Questions Answered
Are the relative sizes of the Healthy Eating Plate sections based on calories or volume?
The Healthy Eating Plate does not define a certain number of calories or servings per day from each food group. The relative section sizes suggest approximate relative proportions of each of the food groups to include on a healthy plate. They are not based on specific calorie amounts, and they are not meant to prescribe a certain number of calories or servings per day, since individuals' calorie and nutrient needs vary based on age, gender, body size, and level of activity.
What about alcohol? Isn't alcohol supposed to be good for you in small amounts?
Alcohol in moderation is beneficial, and it's illustrated in Harvard's Healthy Eating Pyramid from 2005. But it's not for everyone, which is why it is not included in the Healthy Eating Plate.
Credit: hsph.harvard.edu/nutritionsource/healthy-eating-plate/