RebelWell 28 day Quit or Commit Challenge
2015 Challenge Begins October 15!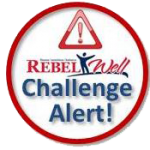 Drink more water everyday, stop skipping breakfast, trade out your afternoon bar for an apple, quit smoking, go to bed 30 minutes earlier every night, give up soft drinks, read for 30 minutes each day, meditate each morning, reduce the amount of sugar in your daily diet, perform a random act of kindness each day, enjoy physical activity at least 30 minutes a day. There are hundreds of things we tell ourselves we should 'start doing' or 'quit doing' yet we still don't commit or quit.
For each day you successfully quit or commit, your name will be entered into a drawing for prizes such as a FitBit, gift cards, and more!  Students and Employees are invited to participate in this challenge, so help spread the word and print out your log today!  28-Day Quit or Commit Log.  Participation in this challenge will also earn you 50 Healthy Habits Participation Points.  For more about our points program, see here.
Use the 28 day Quit or Commit Challenge to form a new healthy habit.
Whether you are breaking a bad habit or adding a good habit, this is your chance!
Some studies show it can take 28 days to make or break a habit. RebelWell is challenging everyone to take 28 days in from October 15 – November 12 to either QUIT a bad habit or COMMIT to a healthy habit. It doesn't matter which you choose, but take this opportunity to challenge yourself to make a healthy change. Set your goal, stick to it each day, mark your log and evaluate how you feel at the end of the 28 day challenge.
Tips:
Get Ready!
Get Support and Encouragement!
Tell your friends and family.
Use the smartphone app Lift as your daily coach.
Learn new skills & behaviors.
Be prepared for difficult situations.
Visualize your healthy changes.
Remind yourself how forming a new healthy habit will make you feel.
Constantly remind yourself: "I can do anything for 28 days!"
For questions, contact Kat Watson via email (kwatson2@olemiss.edu) or phone (662-915-5431).
---
Please provide us with some information below. Sign up is NOT required, but appreciated. Thank you.